La semana de la moda está por llegar y nuestra Caja de Belleza contiene una mezcla de productos para prepararte para la pasarela, descubrirás productos y con ingredientes súper innovadores de las marcas más lujosas del mercado.
¿Qué hay en la Beauty Box de febrero?
The Ordinary – Natural Moisturising Factors + HAÑ

 Para conseguir una tez hidratada y rellenar la piel, la crema hidratante de The Ordinary te la dejará perfecta. Contiene ácido hialurónico, ceramidas y glicerina, el producto trabaja para devolver el agua a la piel para que parezca más tersa y suave.

Consejo: Aplicártela después de un serúm para lograr un efecto luminoso

This Works – Deep Sleep Stress Less

:

 La aplicación en roll-on es lo que hace a este producto perfecto para llevarlo en tu bolso a todas partes. Contiene eucalipto y lavanda para combatir la tensión y el insomnio, dejándote tranquila y sin estrés.
Borghese – Fango Mud Mask

: 

Habrás recibido una de las mascarillas de la gama. Las mascarillas de Borghese son profundamente purificantes y te harán tener una piel más brillante y sana. Cada mascarilla contiene una mezcla de ceras que mejora la condición, la textura y el aspecto de ella para conseguir un acabado sin imperfecciones.

Consejo: Aplicar la mascarilla sobre la piel cuando te das un baño caliente para abrir los poros, de esta manera conseguirás los mejores resultados posibles.
Polaar – Icy Magic:

 Este producto revitalizante para los ojos te va a dejar refrescada y despierta gracias a la mezcla de ingredientes naturales. Ayuda a deshinchar y descongestionar el área de los ojos para eliminar las ojeras y la retención de líquidos.

Consejo: Dibuja una forma oval alrededor del ojo y masajear hacia dentro.

Model Co – Eye Lites Metallic Sombra de Ojos: 

Sé tu propia modelo de la pasarela, utiliza la sombra de ojos metálica sobre tus parpados de de Model Co. Eye Lites Sombra de Ojos Metálica. Dejará un acabado brillante, perfecto para cualquier evento.

Consejo: Aplicártelo sobre una sombra de ojos normal para conseguir un efecto irisado.

Myvitamins – Catwalk Queen

:

 Esta mezcla de vitaminas, minerales y extractos, como vitamina C, zinc y extractos de bambú trabajan para mejorar el aspecto del cabello, la piel y las uñas.

Consejo: Catwalk Queen provee un 100% de la ingesta diaria recomendada, ayudando a revitalizar el cabello. Por eso, si tu pelo está castigado ¡asegúrate que estás tomando tu Catwalk Queen!
Unirte a la comunidad de la Beauty Box ahora, ¡desde tan solo 15,50 al mes!
Tratamiento relajante this works Deep Sleep Stress Less (10ml)

Borghese Fango Brillante Brightening Mud Mask for Face and Body (222ml)

Polaar - Multienergizante instantáneo de contorno de ojos Icymagic (10 ml)
[embed]https://youtu.be/28A1J7Xgn-U[/embed]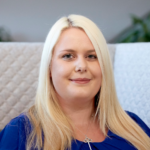 Viajadora, vegetariana y rescatadora y amante de los animales. En eterna busqueda de los mejores productos de belleza que son fabricados sin crueldad y que cuidan del medio ambiente.