¡Revive tu rutina de belleza este mes de junio con nuestra Beauty Box edición "Elementos"!
En una caja especialmente diseñada y totalmente reciclable, este mes volvemos a poner el foco en la belleza y profundizamos en lo que realmente hay dentro de todos tus productos. Consigue este mes 6 productos, valorados en más de 60€, que no sólo son buenos para tu piel sino también para el planeta. ¡Consíguelo antes de que se acabe suscribiéndote hoy mismo!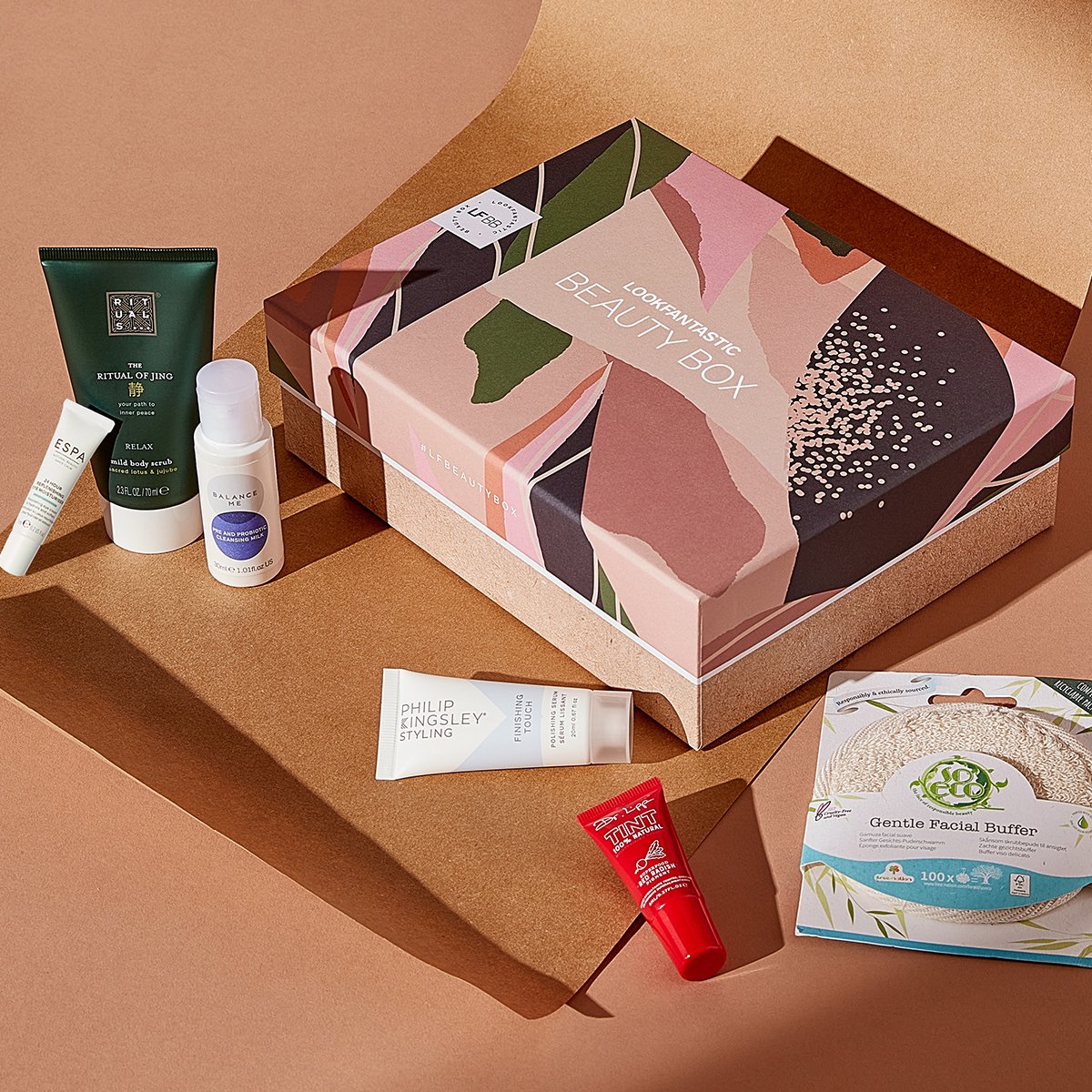 ¿Qué hay en la caja?
Balance Me Pre+ Probiotic Cleansing Milk (30ml) 
Este limpiador ligero y lechoso elimina todo rastro de contaminación, SPF e incluso el maquillaje de los ojos, para conseguir un cutis más claro, tranquilo y brillante. Contiene un complejo bioactivo pre y probiótico que refuerza la delicada barrera del microbioma de la piel, a la vez que la exfolia suavemente.
ESPA 24 Hour Replenishing Eye Moisturiser (7ml)
Una crema de ojos profundamente nutritiva e hidratante, formulada con una variedad de ingredientes eficaces y amables con la piel para reponer, proteger y calmar la delicada zona de los ojos. La onagra y el aceite de jojoba actúan conjuntamente para hidratar intensamente los ojos y darles un aspecto fresco y juvenil.
Rituals The Ritual of Jing Mild Body Scrub (70ml) 
Un exfoliante corporal compuesto por partículas ultrafinas de bambú y una base de crema que elimina las células muertas de la piel a la vez que le proporciona la experiencia de baño más relajante. Formulado con ingredientes activos adecuados incluso para las zonas más sensibles de la piel.
Dr. Lipp 100% Natural Red Radish Tint (8ml) 
Un bálsamo labial hidratante y con color que se desliza por los labios para aportar hidratación y un toque de color. Contiene una lista de ingredientes 100% naturales para unos labios más suaves. Además, prueba a aplicarlo en las mejillas para conseguir un toque de color brillante.
So Eco Gentle Facial Buffer
Una almohadilla exfoliante de la galardonada marca So Eco, respetuosa con el medio ambiente. Ideal para todo tipo de pieles, esta almohadilla ayuda a desobstruir los poros y a eliminar las células muertas de la piel, además de facilitar la absorción de los productos de cuidado de la piel.
Philip Kingsley Finishing Touch Polishing Serum (20ml) 
Este sérum que combate el encrespamiento está diseñado para ayudar a acondicionar, proteger y estilizar el cabello. Envasado en un frasco de bioplástico fabricado con caña de azúcar, 100% reciclable y fabricado de forma sostenible y ética.
¡Subscríbete ahora desde solo 15,50€!